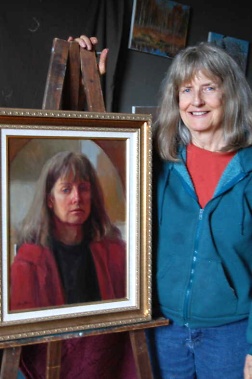 Find me on Facebook www.facebook.com/cynthia.harrispagano
Cynthia Harris-Pagano specializes in oil and pastel portraits in her North Light Studio in Otisville, New York – one hour Northwest of New York City.
Her studio, especially built on to her home brings in a North light which gives beautiful light and shade to the face and clothing.
Traveling to a client's home to sketch and photograph, or, working from a favorite photograph sent to her, Ms. Harris-Pagano concentrates inwardly on the intonation of color, light, and how personality is expressed.
In High School Cynthia traveled by herself on the Long Island Railroad, from Plandome, LI to take classes at the the Art Students League. At Vassar College she took classes in sculpture with Concetta Scarvaglione (who came two days from New York City.), then switched to painting with Rosemarie Beck.
Settling in Otisville with her husband, Angelo, and two children, she painted a semi-abstract series of large paintings, Genesis: Creation and Flood. After this and other large feminist/psychological paintings, she came to her full commitment in portrait painting.
This led her back to the Art Students' League Anatomy Lectures with Robert Beverly Hale and to a workshop in North Salem, NY with Daniel Greene.
Then, the attachment of a North Light Studio of her own, in Otisville, and six more years of study with John Osborne at the Ridgewood Art Institute, New Jersey. This effort represents a "picking up" of the thread, started in Barbizon, France (Corot and Others Plein Air), and continuing thru the Academy Julien, Paris (where Women were first permitted to paint the figure). Cynthia's portraits are now in Public and private collections in the USA, Canada, England, Sweden and Italy.
In 2013, Harris-Pagano showed the Genesis:Creation and Flood paintings in Palmer Gallery, Vassar College, Poughkeepsie, NY. Of this series the painting "Firmament" was chosen for Parting Shot (look for slide show) by Chronogram, Arts and Culture, Magazine.
Cynthia Harris-Pagano is a member of The Portrait Society of America, and The Catharine Lorillard Woolfe Art Club.
2012 "Best in Show" at the MAG Juried Show, Orange County Community College, Middletown, NY
2011 "Best in Show" at the MAG Juried Show, Orange County Community College, Middletown, NY
2006 Connecticut Pastel Society Award at the 34th Open juried Exhibition of the Pastel Society of America, The National Arts Club, NYC
2005 American Artists Professional League Award at the Ridgewood Art Institute 26th Annual Regional Open Juried Show, Ridgewood, New Jersey
2005 "Best in Show" at the MAG Juried Show, Orange County Community College, Middletown, NY
2004 "Best in Show" at the MAG Juried Show, Orange County Community College, Middletown, NY
2002 Arthur Maynard Memorial Award at the Ridgewood Art Institute.
1997 "Young Woman in Brown Vest" was reproduced in Pastel Highlights, in 1997, an American Artist Publication.
1976 Featured artist in the Hudson Valley Magazine